There's a troubling trend that I've noticed when it comes to content marketing. The expectations decision-makers have don't match up with reality.
They know that they need it, but either have small teams who can't do everything or don't invest enough in building long-term relationships with their audience.
Today, I wanted to look at and bust up a few myths about B2B content marketing to reframe internal conversations marketers have with their bosses.
Expectation 1: People are going to care about our content no matter what
You've spent a lot of time and effort in creating great content. Of course, your audience is going to fall in love with it. Right?
Reality: Readers care about what matters to them and provides value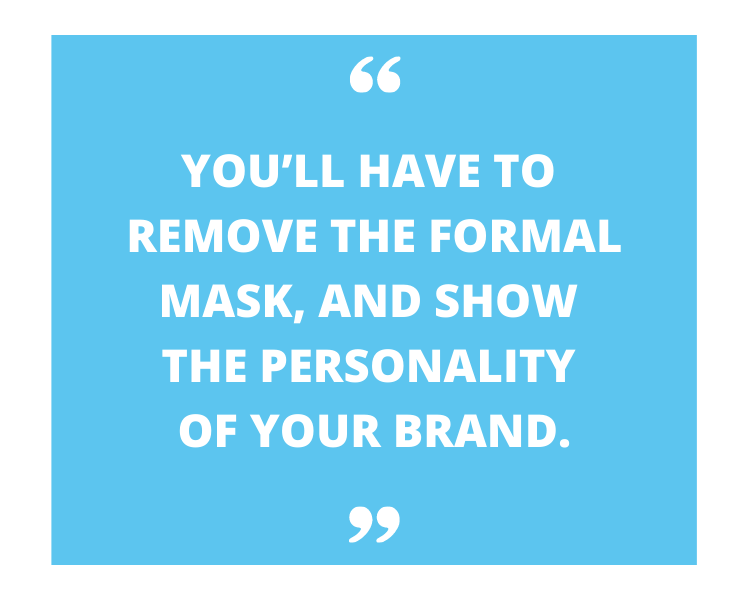 Recently, I came across an interesting stat.
When it came to B2B content marketing strategies, only two-thirds of businesses put their audience's informational needs over their promotional messaging.
Meaning there are others doing only the bare minimum online.
Blog posts with vague information about a new product. Downloadable sales slicks with skimpy copy.
This isn't going to cut it. Not if you want to gain a loyal following and increase sales.
One of the benefits of content marketing is that it allows you to communicate with your audience in ways they prefer.
As more businesses struggle to get people's attention, the call grows greater for content to go above and beyond.
Digital marketing blogs from Hubspot and Salesforce use storytelling and helpful advice to engage people in their content. As B2B companies, they have strong, targeted digital content strategies .
They focus on their audience's needs and give them a reason to care.
So how does this apply to your company?
Well, in your own business, focus on producing more thought leadership articles and posts that position you as an expert. Since there's SO. MUCH. CONTENT being produced (more on that in a moment), you're going to have to do more than go on about the latest in the industry.
You'll have to take off the formal mask, and show the personality of your brand.
Expectation 2: Our content only needs to go on our owned platforms
It's tempting to follow what everyone else does and distribute content on your company site or social pages. But is the goal to play it safe or stand out?
Reality: The key to getting more eyes on your content is to post on multiple channels consistently.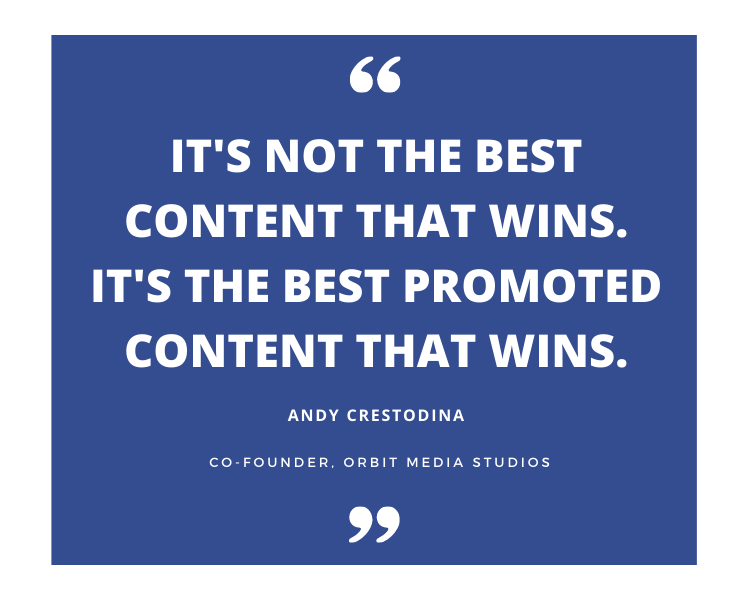 The most recognizable brands are the ones who post quality content often and on different media channels. Quite a few companies tend to play it safe and not to take too many risks and only create content for their own channels.
But they-and maybe even you-are missing out on opportunities to expose people to your brand.
For instance, the top-performing B2B marketers use speaking events , influencer marketing, and guest posting on third-party publications as part of their content strategy.
But here's the kicker:
In addition to all of that, these marketers also take advantage of distribution channels that their competitors don't.
Facebook, Twitter, and LinkedIn posts are a starting point for businesses, but there's always room to do more.
Here are a few places where you can place your content to increase your reach.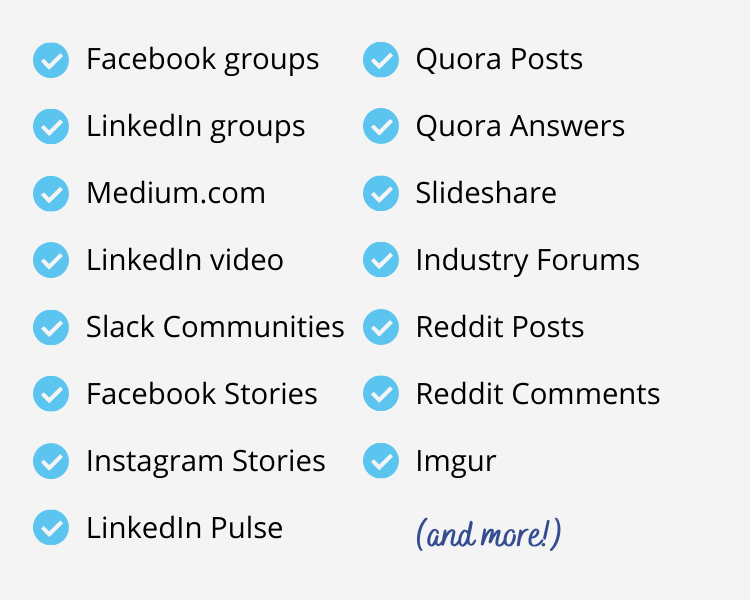 I'm a big believer in putting your efforts into the social channels where your audience hangs out. As more platforms add features and tools to interact with people, there's no excuse not to get the most mileage out of them.
Expectation 3: Our Content is Destined to Go Viral
It's a marketer's dream to create a digital campaign that manages to shoot their company's brand into the stratosphere.
When thousands, if not millions of people, see a clever video or post, it's easy to believe the path to get there was a smooth one.
Reality: There are No Guarantees with Viral Content
Unless you've got a magic wand tucked away somewhere, there's no way to wish viral content into existence.
So while there's no secret formula for what makes a video or blog post go viral, there are a few ways to make it more likely to happen.
How?
Two professors from the University of Pennsylvania set out to understand what it takes for content to go viral .
They produced a study analyzing over 7,000 NYT articles to see which ones were shared via the publication's weekly "most emailed" list.
Longer, in-depth articles with useful insights tended to have higher shares, confirming what content marketers and SEOs have said for a long time now.
Readers want value, and they connect with content that makes them think, and more importantly, feel.
Negatively Charged Emotions
It might be surprising to learn that not all emotional content is shared equally. The study revealed people shared sad and somber stories less often.
Whereas, articles sparking high-energy emotions like anxiety got more shares.
But the emotional trigger that people acted on the most? Anger.
Controversial, blood boiling topics received more comments and shares. We can take away from this that dissenting opinions and unpleasant news create conversations.
But as a marketer, and especially in B2B, you don't want to potentially alienate your audience.
So let's look at a couple of other emotional triggers.
Positively Charged Emotions
While the meaning of the 'awe' originally stemmed from describing a feeling of terror or fright, we've now adapted it to show admiration or wonder.
It's why our eyes were glued to the screen during the first reveal of the dinosaurs in Jurassic Park.
Or why we find positive, selfless acts so inspiring.
If the goal is to improve the chances of going viral, you're better off giving readers incredible, insightful information that leaves them with a warm feeling of amazement and optimism.
Expectation 4: Once we create content, it's one and done
When it comes to B2B content marketing ideas, some people struggle the belief that they have to reinvent the wheel each time.
Reality: There is always a way to repurpose or enhance your content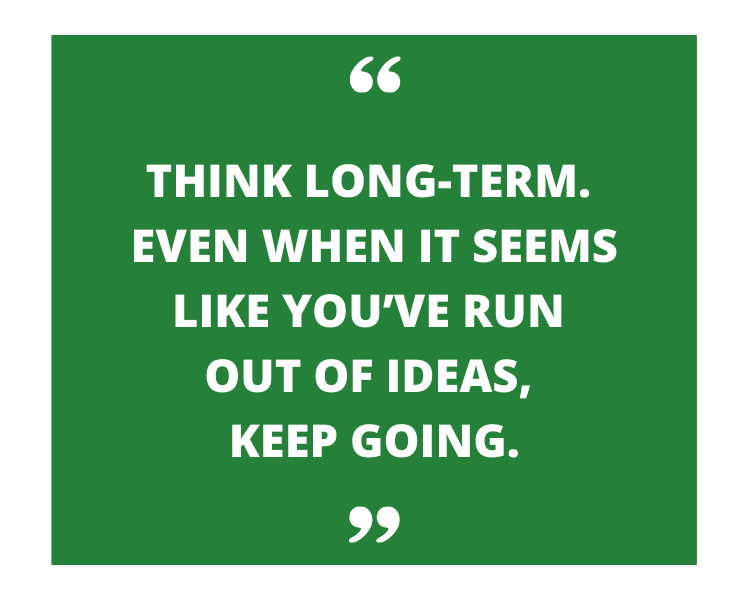 Here's the thing about producing content on a large scale.
99% of the time, there's some new angle or approach you can take on it.
For example, blog posts with tons of stats can be turned into infographics, social graphics, or even blown out into digital presentations.
Pulling a specific insight from a case study could lead to an idea for a white paper-or an in-depth article.
Think long-term. Even when it seems like you've run out of ideas , keep going.
Each time you repurpose your content, it's adding another link in the marketing chain. And these links can continue to deliver results for your business well into the future.
Expectation 5: If we build it, they will come.
It's no secret that businesses benefit from having an online presence. At the very least, a website is a must, but you can't depend on it being the only driver to bring in traffic.
Reality: Content marketing involves way more than just posting for the sake of it
Countless companies are vying for people's attention with a small window of time to get it. If you think putting up content immediately ensures people find you online, it's time for a reality check.
Over 4 million blog posts are uploaded every day.
And that's worldwide.
You're competing within an increasingly crowded landscape-especially in B2B. Only 0.5% of articles in this space get 50% of the social shares. Only 2% of "power posts" from larger sites get 75% of social shares based on the previous stat.
So it doesn't make sense to blast out content without a solid strategy. Spend time mapping out a plan of action, including strategic partnerships to go after, social and traditional media channels to pursue, and establishing your KPI's.
Go over and beyond for your audience. Don't rely on merely existing online to bring them in.
Content Marketing Reality Check(ed)
It's a long game, but content marketing works. Each piece of it works together as the backbone of your overall marketing strategy.
The key is to set realistic expectations to ensure your business moves closer to hitting its goals.
Need help with your food or ingredient brand's digital content strategy?
You're in the right place. Let's talk about your next campaign.