What can you do as a B2B ingredient supplier or flavor developer to tell better customer stories?
According to Innova Marketing Insights, six out of ten consumers worldwide care about understanding where their food comes from. And as a B2B marketer, your story is just as important to the overall narrative of food as the manufacturers.
Maybe even more so.
So let's take a look at a few ways you can tell compelling stories that convey your company's dedication to sustainability, clean labels, and ethical practices.

Never Fear a Conversational Tone with Your B2B Customer Stories
There are a couple of different schools of thought about whether or not B2B brands should use a more conversational tone in their content.
Some feel that it's perfectly okay to do it as long as there's a balance between casual language and industry speak in B2B marketing. While others believe using a lighter tone in their messaging should be avoided at all costs because it seems unprofessional.
Here's the thing, though. 'Conversational' doesn't mean presenting your brand as sloppy, unintelligent, or inarticulate.
In most cases, unless your audience consists of those in highly technical or academic fields where formal writing is the norm, it's okay to keep things informal.
Ideally, you want to speak to your audience as if they're sitting across from you at a café. It's a casual discussion where, in this case, you're showing the humanity of your brand.
But if you're having trouble bringing a conversational tone into your content, try:
Using shorter sentences
Adding conjunctions at the beginning of sentences (Even if your teacher told you not to)
Simplifying your words (limit the use of unnecessary terminology)
Inserting descriptive, visual language
Pick one or two and see how it helps you tell better customer-centric, brand success stories.

Talk About Your Bridge
There's something to building bridges. Usually, it refers to bringing people together for the greater good.
In a way, it also applies to B2B brand storytelling. People want to see themselves in the products they buy and use.
And part of your own story arc includes showing how your products build this bridge and help consumers reach their aspirational goals.
For example, for years, a large part of the population consumed overly processed foods and drinks.
Many still do.
Now there's a steady stream of health-conscious shoppers who want to incorporate healthier options into their routine. They want-and expect-more transparency from brands and their suppliers.
It's in this part of the story where you explain how your products make this happen.
How were you able to take an existing customer from Point A, where they were were very much living a less than ideal lifestyle to Point B, a healthier, happier person?
Talk about where your ingredients came from and the hands involved in cultivating and harvesting them. Use it as proof to show how your practices help your customers get closer to the other side of the bridge.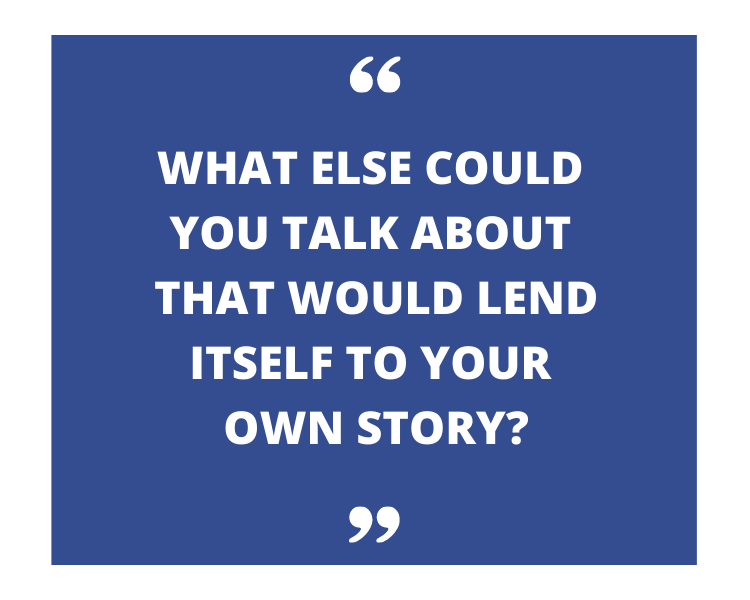 Dive Deeper into Interview Subjects
Interviews are a goldmine for getting information and insights to build on your brand's story. Not only do they help lend credibility to the business, but the interviewee can help you uncover valuable insights that you can delve further into.
You can then use this information to tell a better customer story in your next marketing campaign, B2B case study, or on your site's main landing page.
Don't be afraid to ask more questions and dig deeper to get those tasty details.
What else could you talk about that would lend itself to your own story?
Another way to get ideas for interview questions to ask Listen to what people are saying about your products on social media.
Facebook, LinkedIn, Twitter, and even TikTok are giving customers the opportunity to give their feedback about specific foods and beverages. They'll even talk about what sparked their specific purchasing decision. These can serve as part customer testimonial and part case study.
Recently, I watched a short, 5 minute video from a chef on LinkedIn (yes, they hang out there too). He described a new technique he was experimenting with. In the clip, he talked about the ingredients that he used, but there was a small detail that he mentioned, which stood out.
In this case, it was yogurt.
He went on about how much he enjoyed using this specific yogurt that came from China and reminded him of his childhood. Now he was excited because he was able to buy it from a supplier and use it in his restaurant.
In this case, the supplier could build an entire series of content around this existing customer's story and use it as part of the B2B customer journey.
Always keep an eye out for those golden nuggets that can lead you down a different path to tell amazing B2B success stories.

Don't Make Things Complicated
KISS, baby. No, not the band. KISS, in this case, stands for "Keep it Simple, Simon." See, you thought I was going to say the other thing, didn't you?
Part of good storytelling in digital marketing content is to take a complicated situation and simplify it so your readers can understand it. Make it easy for people to relate to your brand story.
As an example, your case studies, eBooks, or email campaigns might remove all of the technical jargon, instead opt for more streamlined and direct copy.
In your content marketing and lead generation tactics, especially, each one builds on the other to generate awareness, and eventually, create customer advocacy for the brand.
Prospective customers need to know that you truly understand them and their needs. This means weaving a tale that has a beginning, middle, and end. The end is your solution for the consumer.
Leave out all of the superfluous, irrelevant copy that doesn't inform or add anything of value.
Make Your Story a Good One
If you or your marketing team want to know more about B2B storytelling, here are a few other ways to do it.
What Food Tech Marketers Need to Create Great Customer Experience Case Studies
6 Underused Tips to Make Your Thought Leadership Content Better
What Homer Simpson Strip Teaches Us About Social Media Conversations
Need help with your food or ingredient brand's digital content?
You're in the right place. Let's talk about your next campaign.