"I like good, strong words that mean something…"- Louisa May Alcott, Little Women
There's a lot of focus on targeting consumers in the Western world and emerging markets with eco-friendly messaging. And much of it sounds, well, the same.
After a while, words like "environmentally-friendly" or "organic" can become white noise to people when they're stamped on everything.
Unfortunately, some companies care more about saying they care about the environment rather than proving it. So people are rightfully suspicious of brands that make these claims about their products without the actions to back them up.
And we can thank the rampant amount of greenwashing going on for this distrust.
So as a marketer or business owner, how can you talk about your products in a way that sounds less like static and more like music to customers' ears?
I want to share a few alternative terms and phrases you can use to replace some of these tired catchwords in your marketing materials.
But first, let's take a look at the history of 'eco-friendly' and its use in green marketing.
A Brief History of 'Eco-friendly' Green Marketing
Back in my day, I remember several social campaigns telling us elementary school kids to "Reduce, Reuse, and Recycle." Actors like Arnold Schwarzenegger wanted me to get fit, eat healthy foods, and do my part to make the world a better place.
Television shows such as NOVA, Captain Planet, and Bill Nye the Science Guy taught my friends and me about nature, science, and the reasons we should fight for access to both.
All of this happened during the late 80s and early 90s when green marketing began to come out in full force in the US.
But its seeds were planted long before I was bopping around in pigtails.

The 1960's
We can pinpoint the start of the modern green movement in 1962 with Rachel Carson's Silent Spring. It was a landmark book revealing the effects of the insecticide DDT on the food chain and environment.
The book also warned readers about how society's daily use of harsh chemicals and disregard for nature would affect the planet in the long run.
"Nature has introduced great variety into the landscape, but man has displayed a passion for simplifying it. Thus he undoes the built-in checks and balances by which nature holds the species within bounds." – Rachel Carson, Silent Spring
Carson's work ignited a new generation of people interested in renewable, sustainable materials and preserving Mother Nature.
We also see a social and cultural transformation during this decade. With the rise of the Women's Liberation, Civil Rights, and anti-war movements, the shift swept across the nation.
Of course, it only makes sense for the '60s to bare witness to a surge in environment awareness during this volatile time in history.
The 1970's
Both government and industry worked together in the '70s to take massive strides towards environmental reform. Still in the throes of many of the previous decade's social and political turmoil, the US saw the passing of three major pieces of environmental legislation. They included the National Environmental Policy Act, Clean Air Act, Safe Drinking Water Act, and Endangered Species Act.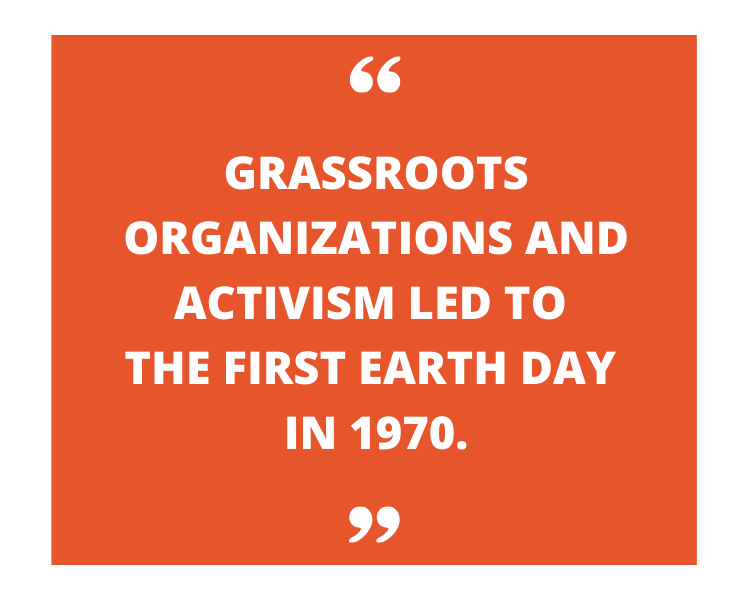 This decade also gave birth to the formation of the Environmental Protection Agency (EPA) and Occupational Safety and Health Administration (OSHA). These organizations created formal standards to protect workers and our ecosystem.
Grassroots organizations and activism led to the first Earth Day in 1970. This day promoted the importance of environmental protection and global stewardship. It has since become an annual event observed on April 22nd in almost 200 countries around the world.
In the UK, the rise of 'new environmentalism' and the Green Party emerges. This movement continues to work within today's political system to promote sustainability and preservation.
Let's not forget about the brands, though. During this time, companies begin to label and market their products as 'natural' in an attempt to court consumers.
In the early 1970s, Tom's of Maine introduced an all-natural toothpaste into the US market. Meanwhile, Kellogg's, Quaker Oats, General Mills, and Grape-Nuts wove new, green language into their granola packaging.
They now touted their use of natural, unprocessed ingredients. These major brands used clever health messaging and ecolabeling to bring this message into the mainstream.
The 1980s
Now we get into the '80s. It's a time for big hair, great music, and raunchy rom-coms. Many of the brands we know of today, such as Burt's Bees and Whole Foods, grew out of this decade known for excess.
Throughout the '80s, people saw increased news coverage about climate change, pollution, and other environmental issues.
Both 'eco-friendly' and 'environmentally-friendly' were used interchangeably by companies. They wanted to explain how their products were made in a fashion that didn't harm the environment.
It's safe to say the constant messaging shown on television and in print allowed these terms to gain popularity as brands used them in their ad campaigns.
The 1990s
As we move out of the '80s, there's even more awareness about environmental issues among consumers, which in turn influences their purchasing habits.
Brands start to advertise in new ways across multiple channels, including the internet. It was quickly evolving during this decade into what would become the connection powerhouse we see today.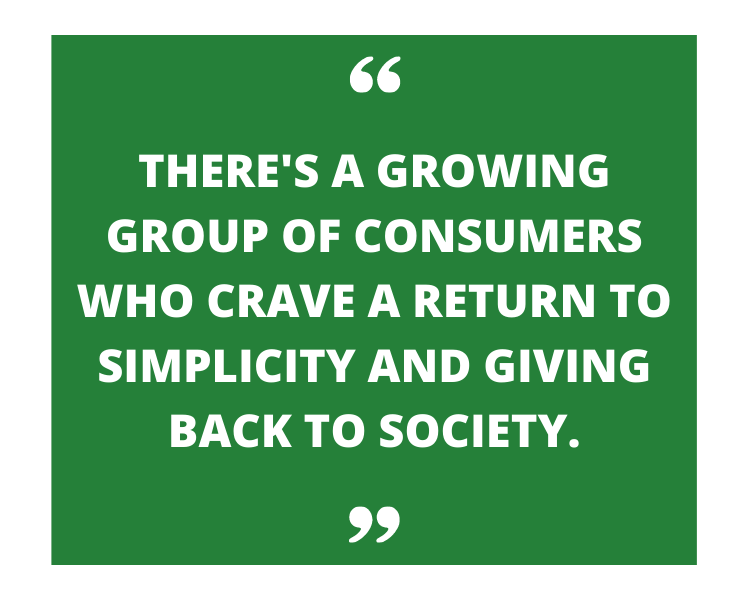 According to the study, Green Consumers in the 1990s: Profile and Implications for Advertising, the amount of green messaging used in print and television ads quadrupled between 1989 and 1990.
Consumption begins to creep up overall with more people supersizing their homes, cars, and yes, even food in the US. But there's a growing group of consumers who crave a return to simplicity and giving back to society.
And they found it.
Brands like Newman's Own and Cascadian Farm provided organic, ready-made foods and beverages while also contributing to worthy causes.
The 2000s and Beyond
During the 2000s, there's a renewed interest in sustainability and staving off climate change.
Buyers are savvier than ever, with greater access to information about companies and their sustainable practices. They're digging deep to ensure that companies making environmental claims practice what they preach.
The terms' eco-friendly' and different variations appear on numerous products as brands capitalize on consumer demand for sustainable products.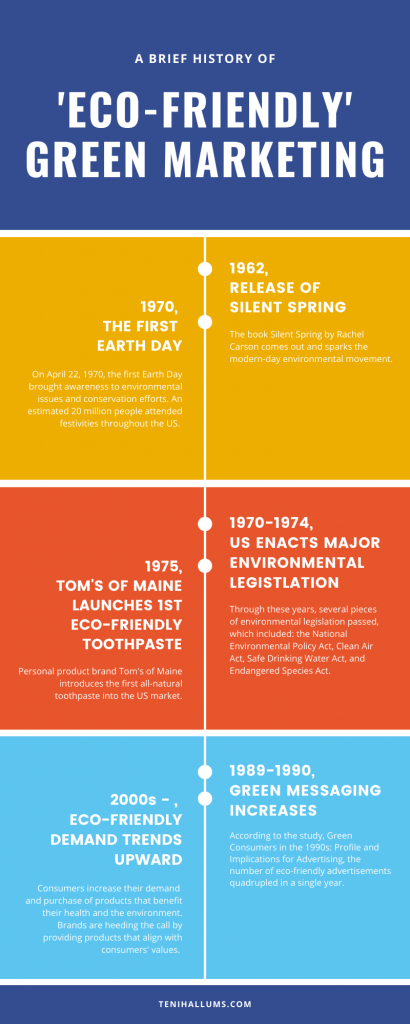 What are Some Synonyms for 'Eco-friendly'?
Over the past six decades, marketers have looked for new ways to talk about their products as the green movement shifted from environmental activism into a lifestyle.
And sometimes, this search resulted in returning to the same words over and over.
Here are a few suggestions for words and phrases to use when you want to vary your marketing copy when talking about Mother Earth, which, by the way, isn't an exhaustive list.
Single Word Alternatives
Green – So many uses for this word! It's a color, a descriptor of someone's experience, and more importantly, one of the most commonly used alternatives that's ubiquitous with one's impact on the environment.
Sustainable – Normally, sustainability is attributed to our use of natural resources. Now it's now commonplace to see it used to reference food and health to show that what's taken away from nature eventually comes back.
Biodegradable – Consumers are more mindful of the materials used in the packaging of their food. People want to use products made from materials that break down without damaging the environment. This concern stems from wanting to reduce their waste.
Alternatives Using 'Friendly'
Earth-friendly – Using this combination of words shows you care about the birds in the sky, the ladybugs in the grass, and everything in between. Because it's our planet, and your business does its part to serve as a guardian of it.
Nature-friendly – Some words have a 'feel-good' sound to them. And this is one of them. It might be a cheat of sorts to replace 'eco' or 'environmentally' with 'nature,' but it's a safe term to use when you need a variant of the original.
Alternatives Using 'Environmentally'
Environmentally Sound – When it comes to showing that you support the ethics of environmentalism and reducing waste, this phrase communicates this belief. In essence, your company is bound by moral practices, which extend throughout the company's entire product supply chain.
Environmentally Conscious – Labeling products with this term shows a level of introspection many companies don't often display. It expresses your business' awareness of its impact on our food chain, land cultivation, and health, all of which are interrelated.
Environmentally Responsible – There's power in recognizing your obligation as a business to embrace environmental sustainability. This term encompasses how a brand considers ways to reduce waste and pollution. From fair-trade chocolate bars to organic bread spreads, the company's supply chain takes this into account through the production process.
Deferential Alternatives
Respecting Our Planet – This phrase speaks directly to – and shows a deep regard for – the actions you're taking to protect and maintain the world we live in.
Carbon-neutral – You can show buyers how their purchase will leave a near net-zero effect on the planet. This word proves more effective when backed by facts and statistics. These demonstrate exactly how your company is reducing its-and the customer's-carbon footprint.
Eco-sensitive – As a compound adjective with a few different meanings, this term can that one acknowledges an ecosystem's vulnerabilities or as being susceptible to damage in nature. For example, in your own marketing, using this word would recognize how a sustainable products' production keeps earth-friendly practices at the top of mind during the manufacturing process.
These words have similar meanings, yes, but also share subtle differences. Each one has a distinctive character, which articulates the intersection between business and green marketing.
How do Consumers Feel About Environmental Messaging?
Several studies reveal that the more exposure people have to this type of messaging, whether digital or traditional media, the more it positively influences their view towards the environment.
When people view environmental product messaging on social media, it's received favorably. Environmentally-friendly product copy also increases the chances of converting a passive viewer into an eager buyer.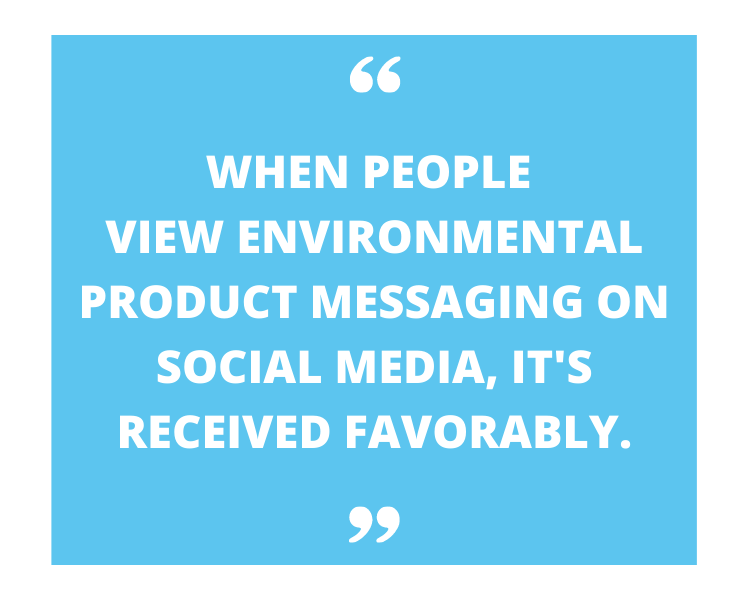 Green Behaviors
One study from the University of West Georgia examined how marketing communications on social media could persuade consumers to take on 'green behaviors' and build them into their own identities.
Throughout the study, it was observed how this messaging helped change consumers' outlooks on their environmental impact, swayed them to buy green products, and live healthier lifestyles.
After analyzing 1500 participants' responses to which messaging influenced their choice, the study identified which content resulted in a purchase.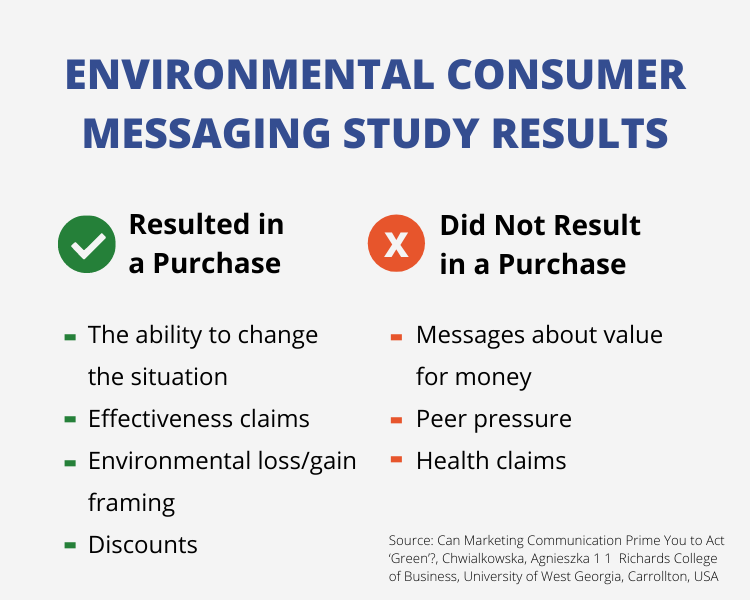 The content that led to a sale revolved around a person's ability to control/change the situation, product effectiveness claims, environmental loss/gain framing, and, of course, discounts. On the flip side, messages about value for money, health claims, or peer pressure tactics resulted in fewer closed sales.
Takeaways for Marketers
So while more studies are necessary, this one reveals there are greater opportunities for marketers to reach consumers, not by focusing solely on their products' benefits but appealing to their personal values.
It means doing more research and social listening to get a sense of consumers' motivators and their barriers to sustainable marketing messaging.
One interesting insight from the study showed three obstacles to consumers making a purchase. They included social shaming, marginalization, and preconceived notions of being pro-environment as 'feminine.' These hurdles prevented some consumers from buying products in the sustainable category.
All signs point to using more relatable, empathetic copy to connect with these audiences. Businesses will have to adjust their messaging to overcome these mental hurdles in their consumer marketing campaigns.
So What's Next for 'Eco-friendly' Marketing Terms?
As new markets emerge outside of the Western world, food and beverage manufacturers and food tech companies will need to address the multiple cultural and personal reasons driving these groups to buy green products.
Slapping a label on a package and calling it a day won't cut it. People are growing increasingly knowledgeable about what they're consuming.
They'll hold brands accountable for the promises they make to their customers. Consumers will also expect to see messaging, which proves a business means what it says. They'll also require the products the buy to do the same.
Need help with your food or ingredient brand's digital content?
You're in the right place. Let's talk about your next campaign.