Food industry case studies help build a solid foundation with customers to allow them to see the benefits of using your products. And personalizing the customer's experience is now more important than ever.
I'm going to assume that you already know what makes a great case study.
So instead, let's talk about how important this form of media is to your content marketing strategy.
Case studies are among the top five forms of media marketers will continue incorporating into their content marketing strategies. Since 61% of marketers use account-based marketing as part of their strategy, case studies are powerful tools to increase conversions and ROI.
But this marketing method comes with some challenges. The main one being personalizing the customer's experience. It becomes even more complicated by more people viewing content in so many different formats.
So how can food tech companies get extra mileage out of their case studies?
Let's go through a few ways.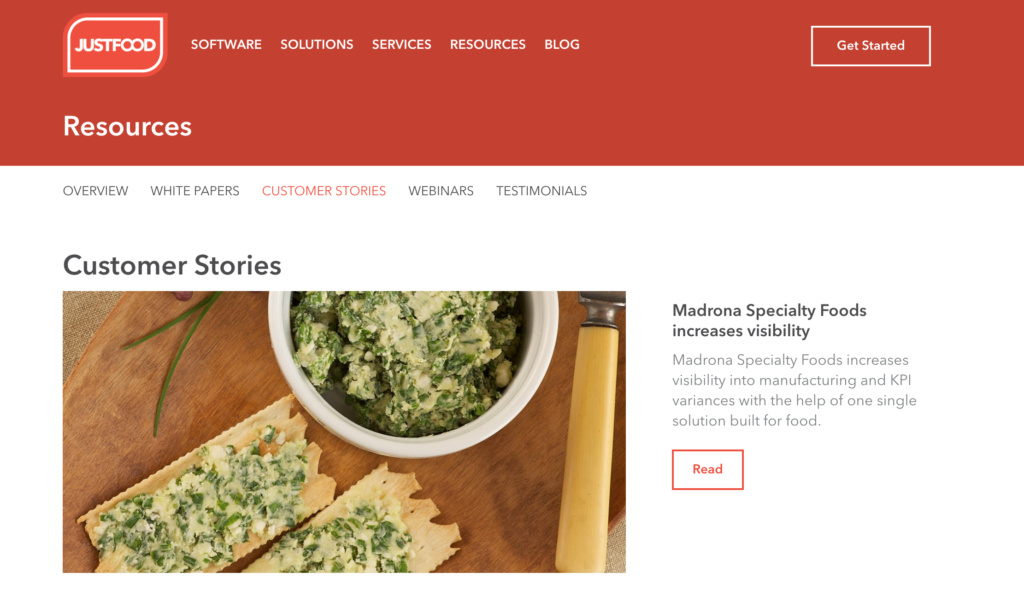 Optimize Your Case Studies to Drive Traffic
ERP software company JustFood keeps their customer stories housed in one section of the site. Once visitors land on the page, they have the option to download a simplified case study, which gives a high-level view of the customer's story. Readers can also view a more detailed account if they keep scrolling down the page.
In this longer version of the content, JustFood treats their case study content more like blog posts. They're written using SEO-optimized, yet personable copy.
It's smart to use these case studies in this way to bring inbound traffic to the site. In JustFood's case, people landing on this page would generally be in the sales funnel's consideration phase. To increase their chances of moving them further down the funnel, JustFood makes it easier with approachable, customer-focused content.
Create Video Testimonials to Build Connections
Since the demand for video content is only growing, it makes sense to spin those case studies into customer testimonials. People pay attention to videos and are more inclined to respond when they can see and feel the emotion of live faces on-screen.
If you have the budget to produce a high-quality video, this will give prospects a chance to engage with your company on a meaningful, human level.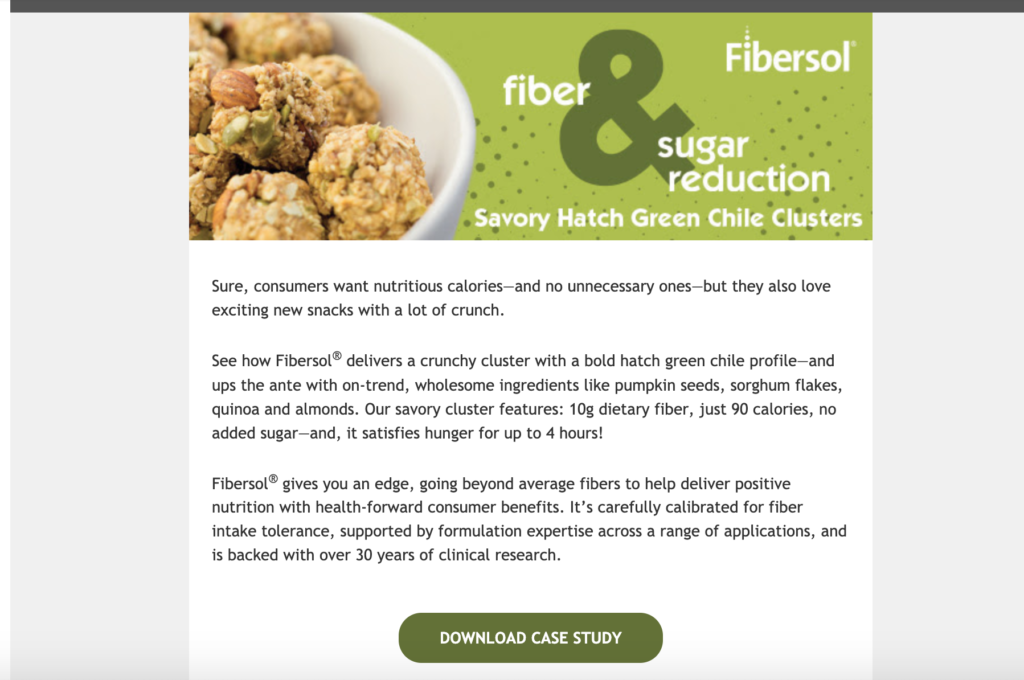 Incorporate Customer Stories into Emails & Newsletters
I recently received an email from Food News Business featuring Fibersol. It's a specialty dietary fiber food ingredient under the ADM and MCI brands. In the email, they described how their products could help food manufacturers meet consumer's nutritional needs. But Fibersol also backs up its claims with a downloadable case study for food manufacturers.
Yes, I know I'm technically not in that group, but I enjoy seeing what's happening in the industry. 🙂
The one thing I wish they had done differently was to make it a requirement for me to provide my information first. Since Fibersol had so much exposure to this online magazine's audience, they could have capitalized on it by using this case study to generate leads.
Fibersol didn't quite nail how to maximize the full potential of their case study. But they did show how ingredient brands could use email to reach out to potential customers.
Create a Customer-Centric Blog Post
While the case study spotlights the customer, blog posts serve to highlight your company. And the magic of food industry case studies comes from their interesting customer insights and quotes.
These can be blown out into in-depth blog content.
I'm not recommending that you should write robotic rehashes of the case study itself, though. You can turn each part of the case study into a compelling company blog post.
Focus on how the customer overcame a significant business challenge. Then dive deeper into how your company provided an actionable solution.
You could even compare the customer's results to the industry overall. The sky's the limit.
Equip Your Sales Team Targeted Case Studies
Since the buyer's journey isn't linear, it's not unusual to have a communication gap between the sales and marketing teams. One side doesn't know what the other is doing, leading to lost opportunities.
As a marketer, you have to be on the same page as the sales team. Salespeople have a close relationship with prospects, and they need to have the right tools on hand to show the value of your products.
There's no longer the need for the hard sell. More often than not, people arm themselves with product information long before interacting with the sales team.
So prepare them by giving them targeted case studies that meet prospects exactly where they are in the buying journey.
Turn Case Studies into eBooks
eBooks are still a highly effective lead generation tool for marketers. So why not turn your food industry case studies into information-packed downloadable content?
Imagine you have a case study discussing how a food and beverage company increased its efficiency over two months because of a new software implementation.
You could repurpose it into an eBook titled, "Optimize Your Food Manufacturing Business in 60 Days." It could go into more detail about how the company got results using statistics and quotes.
Create a highly targeted eBook that delivers a solution and highlights other customer's experiences.
Leverage LinkedIn to Gain More Exposure
Social media is a powerful platform to show off the latest innovations in the food and beverage industry. But when it comes to case studies for people in this industry, your efforts need to be targeted.
For instance, LinkedIn is where the party for food tech and software marketers. Over 80% of B2B leads come from this site, making it the perfect place to share valuable industry information to a receptive audience.
LinkedIn allows you to upload documents now which allow people to view them as presentations. This latest update makes it easier to share case studies on company feeds and within industry groups. 
But you can go further and use Slideshare (soon to be Scribd) to share them with industry groups. There's even the added bonus of taking advantage of Slideshare's SEO-friendly technology to drive traffic to your company's website.
How Will You Use Your Case Studies?
Now you have a few more ideas about how to plug your case studies into different formats to give people more of the information they want, how they want it. In doing so, you make it easier for prospects to make decisions about your products.
Are you repurposing case studies in interesting ways? Let me know how it's working out for you.
Need help with your food or ingredient brand's digital content strategy?
You're in the right place. Let's talk about your next campaign.