Some people still gravitate towards in-person meetings and phone calls because they appreciate the personal touch. But others, usually younger B2B millennial buyers, prefer a different approach.
Research shows that these buyers prefer finding information on their own time and hate sales calls with reps. And since 74% of these buyers evaluate suppliers online, many of them believe the sites they visit fall short, leaving them with a bad taste.
So as more manufacturers and suppliers transition their businesses towards digital channels that open them up to wider audiences, they're faced with a big question. How can they give millennial B2B buyers better experiences online?
Why millennial B2B procurement teams are less than impressed with supplier sites 
Since 2020, interactions, where buyers gather information about potential B2B vendors or retailers, have only increased, bouncing from 17 to 27. Much of this detective work happens online. When these buyers interact with B2B businesses on social media or online stores, they want the same customer experience and convenience found on B2C sites.
Unfortunately, they aren't experiencing the same ease of ordering and returns they would find with B2C retailers on B2B sites.
Right now, the end-to-end buying process for B2B millennials is less than ideal. The Sana B2B Buyer Report revealed that 94% of visitors encounter hurdles when visiting B2B ecommerce sites. Some of the biggest issues were inaccurate product information, delivery and tracking inaccuracies, and difficulties with checking out and reordering.
But there was another challenge customers cited: their relationships with suppliers. Four out of five buyers believe forming an authentic connection with sellers is essential.
However, transparency concerns, reliability issues, and on-site inconsistencies are steadily chipping away at buyer-supplier relationships. Many B2B sites aren't considering the entire path people take before they reach the point where it's time to make a purchasing decision.
As one study pointed out:
The customers' journey from thinking to planning to purchase to buying and then consumption to post-consumption is full of unexpected interferences. (Jaakkola & Alexandar, 2014)​​

These hyper-connected, digitally enabled buyers are finding more barriers in their way than solutions because of the nonlinear avenues they take to reach a site.
And it's leaving them without much reason to buy once they get there.
​​​​​​​​​​​​​​It's further complicated by the steady stream of stakeholders who have a say in purchasing complex, expensive B2B products. According to Gartner, the average number of decision-makers involved a decade ago was five. Now it's between 11 to 20 people.
Each with different motivators, requirements, and problems they are solving as they assess vendors. Their confidence in a supplier's ability to fulfill their needs depends on whether they believe 1) they have enough detail to make a decision and 2) suppliers can address the constraints and challenges they face in the larger context of their organization.
So as dynamics shift away from in-person sales experiences to online self-education, B2B companies must accommodate their prospects. Doing this entails addressing any questions and concerns before, during, and after purchase.
Creating relationships with millennial buyers on their terms
You'll need to use the tenets of "relationship marketing" to establish trust with B2B buyers who don't want to have a conversation with sales teams. In essence, relationship marketing emphasizes the association between brand and audience rather than the sale.
In a report titled "Relationship Marketing in the Digital Age," researchers found that for relationship marketing to be successful, it had to fulfill three requirements:
​​​​​​​​​​​​1. By nature, relationships are dynamic and progressive. This energy extends into relationship marketing. 
2. Relationship marketing's reach is broad, like most interpersonal interactions. 
3. All parties have to benefit from relationship marketing. And those benefits must provide mutual value. 
Back in the day, when mules were the way farmers and craftspeople transported goods to customers, they served as both manufacturer and retailer. During this time, there was less risk.
People knew the farmer who they bought grain from and their families. They went to church with them, and their kids played together. Because of this, they were confident in the quality of goods they received.
As time passed, relationships between buyers and sellers became more disconnected-especially in B2B interactions. Where in-person interactions were commonplace 30 years ago, now only 17% of the buying experience involves direct interaction with a rep.
This shouldn't be a surprise. Report after report shows that today's B2B buyers, specifically millennials, prefer to access information about products online instead of jumping on a call. They perceive interactions with a sales rep as less important when compared to downloading a white paper, watching a product video, or reading a blog post.
Even though buyers are less inclined to have in-person interactions with sales teams, maintaining the relationship is still important. When you treat them right and make it E.A.S.Y for them to buy from you, millennial B2B decision-makers will do it even when the price is higher than your competitors'.
But it means meeting them where they are.
Suppliers must know the key decision-makers in the procurement process and get them involved early on. And in doing so, using qualitative and quantitative data gives them the tools to learn about products, earn the trust of prospects, and give buyers the autonomy to customize their own experiences—with or without reps.
Minimizing buyer's questions and friction points
No one wants to make a mistake when it comes to buying from an unknown, unproven vendor. And the stakes get even higher for products over five figures. Since most vendor searches happen online, procurement teams want to know who they're buying from. Suppliers' websites and content have to do less telling and more proving.
Because as B2B buyers move from the first interaction to purchase, they'll view a minimum of five pieces of content. And because decision-makers come in from different places and have their own self-interests and motivators, each piece of content has to address these individual needs as smoothly as B2C content.
How you can use them to increase trust:
Reviews/Testimonials
Since B2B purchases usually involve more considerations and money, introducing potential buyers to the experiences of prior customers can lower the barriers.
Where to use them?
Customer interviews, social media, audio, case studies, and video testimonials
Original Research
B2B products impact the buyer's customers, so all research should anticipate potential problems, proactively list solutions, and mitigate concerns.
Where to use them?
Surveys, focus groups, and customer interviews
Infographics
When it comes to more complex data, pricing, or operations, it's helpful to engage visual decision-makers with tools that break down this information into a more digestible format.
Where to use them?
Statistical and informational comparisons, hierarchical lists, processes, and timelines
Video
Video has some of the highest engagement. It presents an opportunity for suppliers to show customers the development progress for new products, show off customer case studies, and make training easier.
Where to use them?
Explainers, tutorial/how-to, demos, training exercises, and customer and business stories
Blog Posts
With the number of blog posts floating around online, they still give businesses a chance to go above and beyond with the information they deliver to prospective buyers as they learn more about products and their use cases.
Where to use them?
Cheatsheets, interviews, how-to, in-depth long-form, short-form, curated list, expert interviews, and personal/business stories.
Now it might seem easy to create content, but your content needs to inform. And it has to instill confidence.
It has to enable you to build a reputation for talking about more than products. Your site's content should serve as a repository for people to find information about related topics. All of this has to expand on their relevant interests. If you're talking about the specifications of your products, throw in testimonials and use cases explaining how those same products provided results.
JustFood, an ERP software company for manufacturers and distributors, keeps all its resources in one location on its website. Visitors have the option of getting a ton of information about how they can streamline their processes and achieve growth through in-depth case studies, reports, videos, and more.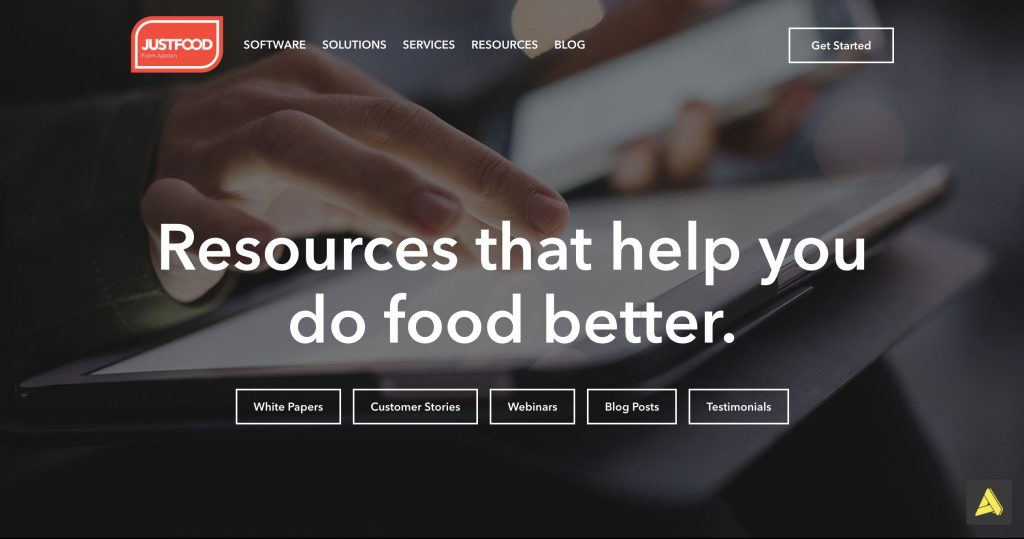 The company makes it so prospective customers visiting the site have one hub where they can find everything they need to decide whether JustFood is right for them.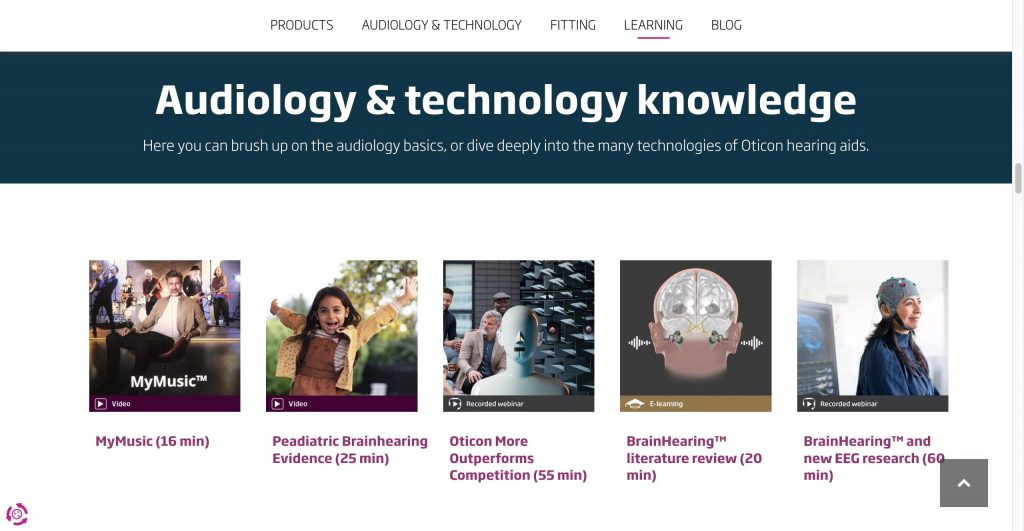 Meanwhile, equipment manufacturer Oticon gives consumers and healthcare professionals a wide range of options, from webinars to e-learning. Specialists and other hearing care experts can have all their questions answered. The company empowers them to provide patients with information to understand how the devices work and ultimately improve their lives.
Removing barriers to gathering information and not forcing people to dig for it gives prospective buyers details and, more importantly, the right tools to make a judgment.
Convincing buyers to change from "the devil they know"
When faced with a choice between changing from a familiar vendor to a new one, they're hard-pressed to leave what they know-even when treated poorly.
A study analyzing why people don't want to switch to another company discovered that self-esteem plays a huge role in the decision. There was a tendency to internalize how businesses treated them, which affected their ability to leave.
Newness challenged buyers who feel like they've been taken advantage of or previously neglected by companies. Couple this with the innate skepticism millennial buyers already have, and this aversion to change presents a massive burden for B2B suppliers and manufacturers to overcome.
But convincing them to change means:
Reducing risk for buyers;
So they feel safe and secure with the products, service, and experience you're offering;
And have the confidence to jump from their current provider to your company
So how does this look in reality?
Risk-averse buyers
Once bitten, twice shy. Poor customer service, conflicting data, and bad communication add to the distrust between buyers and businesses. Many customers' frustrations stem from unreliable information affecting pricing and timing while creating challenges within their organization or supply chain. So taking a chance on another vendor is a big ask.
With many B2B supplier sites, they operated as simplified storefronts. But they didn't have the technology or systems in place that could allow them to take on higher traffic and fulfill the evolving needs of their customers.
One would think that the decision would be immediate to change. If someone mistreats you, move on to someone who doesn't. However, for buyers who question themselves, studies have shown that they tend to be more risk averse when moving past the costs to switch to another provider.
Removing the risk
Every day, organizations make over 400 business orders. And these purchases are critical to keep things running smoothly. Because of this, transparency is key to pushing past the uncertainty and fear surrounding expensive products. Besides giving people accurate pricing and stock, you want to understand the conversation in their heads that's making them cautious in the first place.
Well-designed surveys can reveal information about the reasons why a person may or may not make a purchase. However, customer interviews and reviews can uncover more valuable details about why they choose to buy from you or another business.
Questions like:
"What is/was happening in your business that made you choose [X-company]?"
And "What have you and your team been actively doing to overcome (x) or achieve (y)?
Followed by "How's that been working out? Why do you think that is?" reveal more about what they are dealing with and how you can make them feel more comfortable switching.
Giving customers the confidence to buy
Once you know what is going on in your buyers' heads, you can tailor your website's messaging to address their concerns. You're removing limitations would cause them to stay with a provider that isn't treating them well or making them feel insecure.
When reducing consumers' risk, they were more apt to transcend change costs because they felt acknowledged. The company had already addressed their resistance and made them comfortable enough to overcome it.
Do your customers already have a contract that would incur fees if they canceled? Maybe your business can cover those fees and deal with the paperwork.
Look for ways to optimize your offer based on what buyers are saying, which could include:
Warranty tracking
Invoice customizations
Personalized customer portals
Enhanced order reporting
To give buyers real value, the stars need to align. B2B sellers have to use their websites and online stores to address the challenges of prospective buyers with accurate information.
To achieve a competitive advantage, here's what suppliers and industrial marketers need to do long-term
The sellers who succeed at getting millennial buyers to trust them are the ones who put "buyer enablement" front and center. In this context, enablement means identifying the change/outcome buyers want and developing a framework to address all the challenges they must conquer to get there.
Many suppliers may feel like their offerings are too complex or expensive to be sold online, but they must adapt to how their customers buy. This adaptation includes consolidating the technical insights, specifications, and other data into formats that are easy to consume and tick all the boxes for stakeholders.
As you iterate on the relationship with prospective customers from the first interaction to cart, your communication has to do the following:
Provides offers prospective customers care about
Proves that you do it better than your competitors
It shows that it's difficult for competitors to replicate the same experience
To get those repeat orders online, the digital buying experience has to be highly relevant, based on voice of customer data, and convenient.
B2B sellers will have to undo years of outdated systems and processes that no longer work for how buyers-especially millennials-make purchasing decisions. It suggests evolving the classic principles of relationship building (i.e., traditional, in-person sales) to one where buyers can self-educate.